How to Add Google AdSense to a WordPress Website [a step by step guide]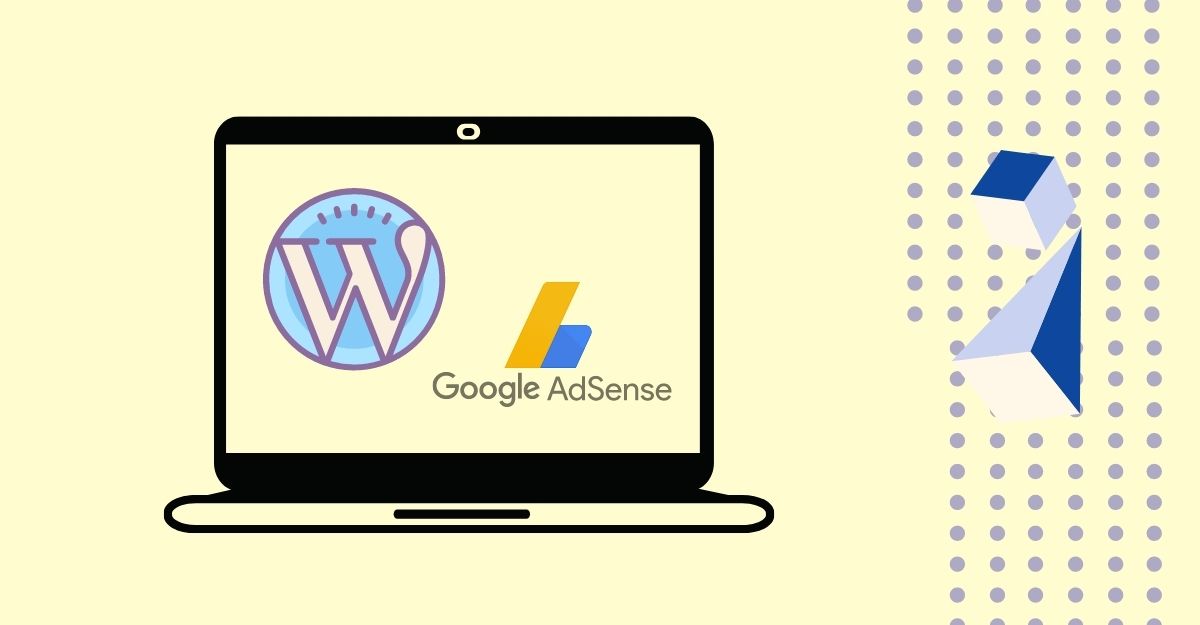 Displaying ads is one of the easiest ways to monetize your WordPress website. There are numerous platforms that allow you to get connected to the advertisers and sell your ad spaces to them. Google AdSense is one of the most popular and widely used ad networks. It serves different types of ads based on the image and tone of your brand. In this article we will be elaborating on how to integrate Google AdSense into your WordPress Website easily.
There are two different ways of WordPress AdSense integration, manually or via plugins.
We will show you both the ways step by step.
After going through the article, you will be able to easily add Google AdSense to your WordPress website by following just a few easy steps.
What is Google AdSense?
Google AdSense is an advertising network run by Google.
It is a user-friendly platform that connects the advertisers to the website owners. It serves ads based on your website content, target groups and the browsing history of your visitors. You can easily make money with Google AdSense by displaying ads.  It ensures a better click-through rate and is a free platform.
How does Google Adsense work?
Adsense works on a PPC(Pay per Click) model. Google charges advertisers to show their ads on the Google AdSense network(partner sites).
On the other hand, it pays the publishers to reflect ads on their websites.
Google Adsense is the largest online ad network that's helping both advertisers and publishers to earn well from these trades.
With Adsense, you don't have to directly interact with the advertisers individually which results in saving time and making money simultaneously.
Let's understand this concept in a different way –
Google Ads is a platform where advertisers can run ads. If you have a shoe store and you have set up display ad campaigns Google ads charge you on the basis of the PPC model.
Here AdSense comes into the scene, it automatically shows your ads to its partner sites and pays their owner for it. If you are wondering how to place AdSense ads on WordPress, we will be explaining it in detail in this article.
Creating a Google AdSense account
The first and foremost step to display ads on your site is to create a Google AdSense account. It is a matter of just a few clicks.
If you have an existing Gmail account or Google account, you can move ahead with the same. Here is what you need to do –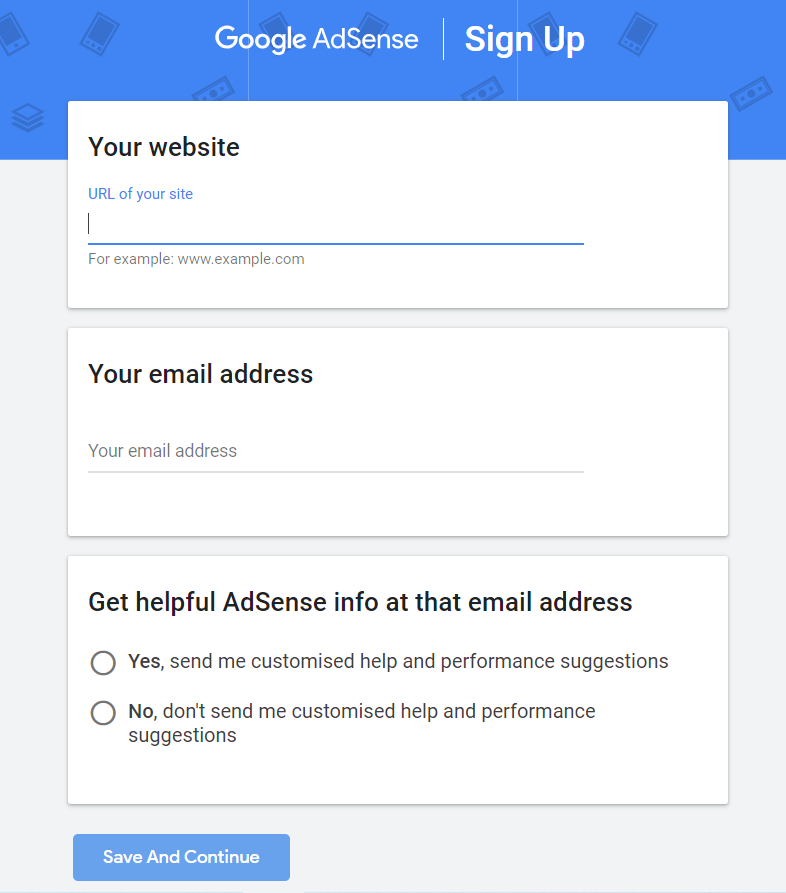 Go to Google AdSense site

On the homepage, you will find a "Signup Now" button, click on that

A new page will appear

Add your website URL and email id

You can also choose whether you want to get instructions from the support team by simply clicking on a checkbox

Click on the "Save and continue" button to get started

In the next page, add your contact details and submit your application

Read the terms and conditions and agree to them by clicking on the respective checkboxes

Now, Google AdSense will ask you to verify your phone number through a text message or voice call

After the verification process is complete, you will receive a verification code

Copy the code and paste it safely somewhere as you will need it to link Google AdSense to your account
After submitting the application, you have to wait for some time for the Google AdSense team to review and approve it.
The process may take a maximum of 7 days.
After your request gets approved, you can log in to your account.
You will receive a personalized code. You have to add this code to your website to pull ads from Google AdSense and display them on your site.
Manually adding Google AdSense code in your WordPress website
The next step is to add Google AdSense verification code to your website. For this purpose, follow the steps below –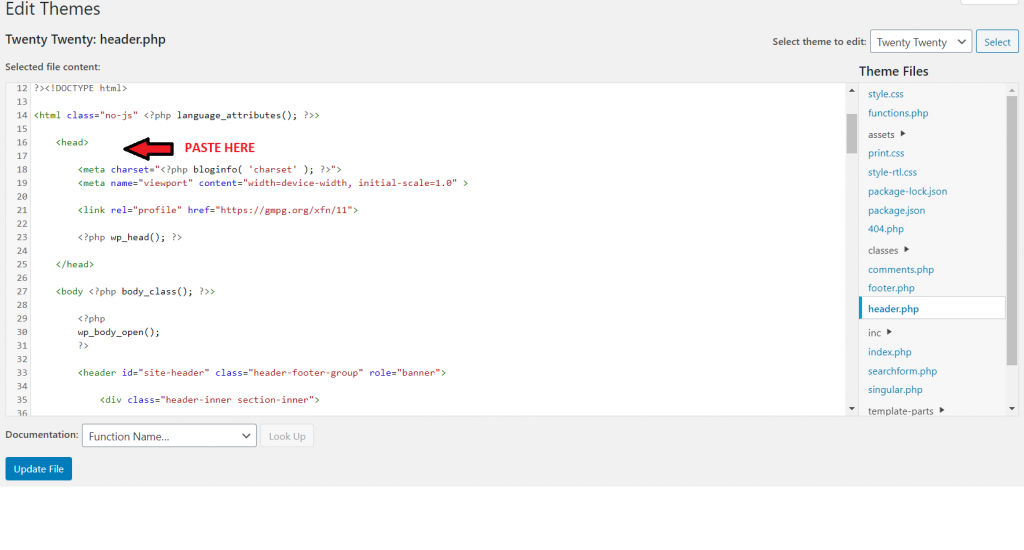 Head on to your WordPress dashboard
Go to Appearance – > Editor
Go to the dropdown menu called "Select theme to edit" and select the existing theme

Now, select the theme header template from the list on the right

Look for the tag and then paste the verification code right after that

Hit the save button to save the changes
Creating an Ad Unit in Google AdSense
Creating ad units by adding Google AdSense ad code to your website may seem a bit difficult at the beginning but once you know the process, you can do it in minutes without any hassles. Here are the steps you need to follow –

Log in to your Google AdSense account

Click on the "Ads" menu in the left sidebar and then sort it by "Ad" unit in the overview section

Click on "Create new ad unit" button

You will have to choose the ad type now

Google AdSense supports 3 major ad types – Display, Infeed and In article. Based on your requirements, select your ad type

Now you have to give a name to the ad unit and select the ad size. As the name is for internal use only, you can give any name of your choice. There will be a list of the popular ad sizes. Choose the one that matches the needs of your website.

The next step is to decide whether you want responsive or fixed ads. It is always better to go for a responsive option. Because they support all devices and screen sizes.

Finally, click on the "Create" button to move ahead.

Google AdSense will generate an ad code for you. The code will carry a unique ad unit id and your publisher id.

Copy the code and paste it into a plain text editor like your notepad for further use.
Manually inserting Google AdSense Ad unit in your WordPress website
Now, it is time to insert the ad unit to your WordPress website. Follow the steps below to get it done-
Go to your WordPress dashboard

Navigate to Appearance -> Widgets

Select the "Text" widget from the list of the available widgets

Drag and drop it into the area where you want to showcase your ads

Navigate to the text tab in the text widget area and paste the personalised code that you generated in your Google AdSense account
Click on the "save" button to save the changes

And you are done
The process might seem overwhelming to many. To simplify this, we can always use a WordPress Advertising plugin that can help us have complete control over WordPress AdSense implementation.
WP AdCenter – A Powerful WordPress Ads Plugin
Displaying ads from Google AdSense manually is not as easy as it seems.
First of all, it is time-consuming and needs some efforts on your part.
Secondly, it involves a bit of configuration and that needs some technical know-how.
A WordPress ads plugin makes things much easier for you and helps you make money with Google AdSense in no time. All you need to do is just install the plugin and activate it.
It will let you pull ads without any difficulty within minutes. If you are a WordPress user, there are many options available for the purpose.
Here, we will show you the most efficient option using a plugin called WP AdCenter.
Adding Google AdSense to WordPress using a Plugin
WP AdCenter is a powerful ad management plugin for WordPress, and is considered on of the best AdSense plugins for WordPress.
It allows you to display ads on your sites with just a few clicks with its user-friendly interface. It offers you two different ways to host ads.
You can either create your own banner or pull ads from the different ad networks like Google AdSense.
The plugin lets you use both the ways with an equal amount of ease and smoothness.
You can register advertisers and run banner ads for them. There are features to assign ad zones to individual advertisers.
The speciality of WP AdCenter is, it allows you to add as many ad zones as you want to your screen and place them anywhere. You may set the ad rotation manually. It has a geolocation targeting feature. Using this feature, you may devote ad zones to specific regions and display specific ads there. The plugin has WooCommerce payment integration and easy advertiser sin up process. No technical skills are required to use this plugin.
To display ads from Google AdSense, Here are the steps you need to follow –
The first step is to integrate Google AdSense with your WordPress account –
Head on to your WordPress dashboard

Install and activate the plugin

You will find the logo of "WP AdCenter" in the left sidebar, click on it

Now, go to Settings -> Import from AdSense

Click on the "Connect to AdSense" button to get connected to your Google AdSense account

You will receive a token once you get connected

Copy and paste the token in the respective field

Hit the "Submit token" button

After submission, you will find that your Google AdSense account is integrated with your WordPress dashboard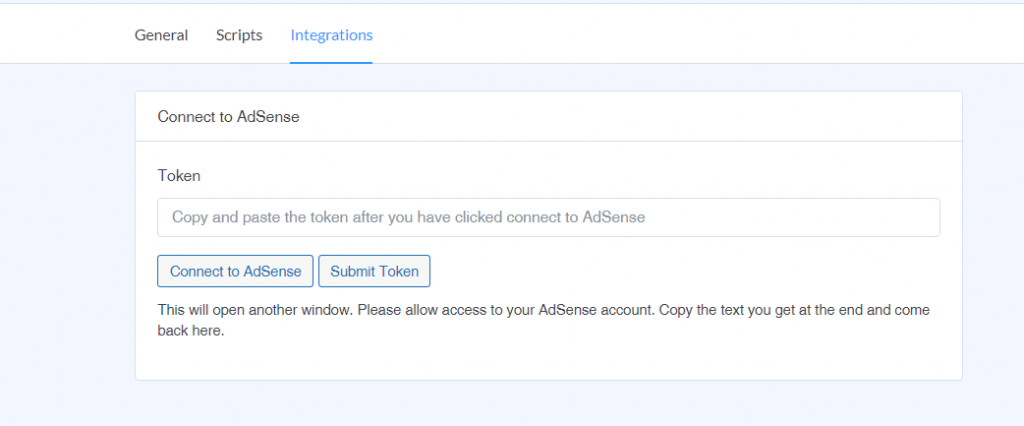 The next step is to create an ad. For the purpose, follow these easy steps –
Go to WP AdCenter -> Ads -> Add New Ad
Give a name to the ad and choose the type as the import from Google AdSense
At the bottom of the page, you will find that the Google AdSense ads are on display
Simply click on the "Load" button to display these ads on the front end
Now, chose the advertise and ad zones for your ads
Click on the "Save" button to save the ad
Use the ad as a shortcode, widget or blog after which the ad will be live in the front end of your website
Conclusion
Google AdSense is one of the most popular ways of monetizing a website. However, setting it up and integrating it with your WordPress website isn't that straightforward.
We have shown you two different ways on how to integrate google AdSense into your website manually and using WordPress ads plugins.
Choose the one you think will be easier for you and move ahead.
The WP AdCenter plugin we suggested here is an all in one toolkit for WordPress ad management. It carries exclusive documentation and all the features are self-explanatory You can get it here.
It will allow you to get connected to Google AdSense and pull ads from there in a few minutes without any difficulty.
If you liked the article, never forget to share it on Twitter and Facebook. Leave your reactions in the comments section below. Your feedback is highly valuable to us.