How to Add Advertisers to your WordPress Website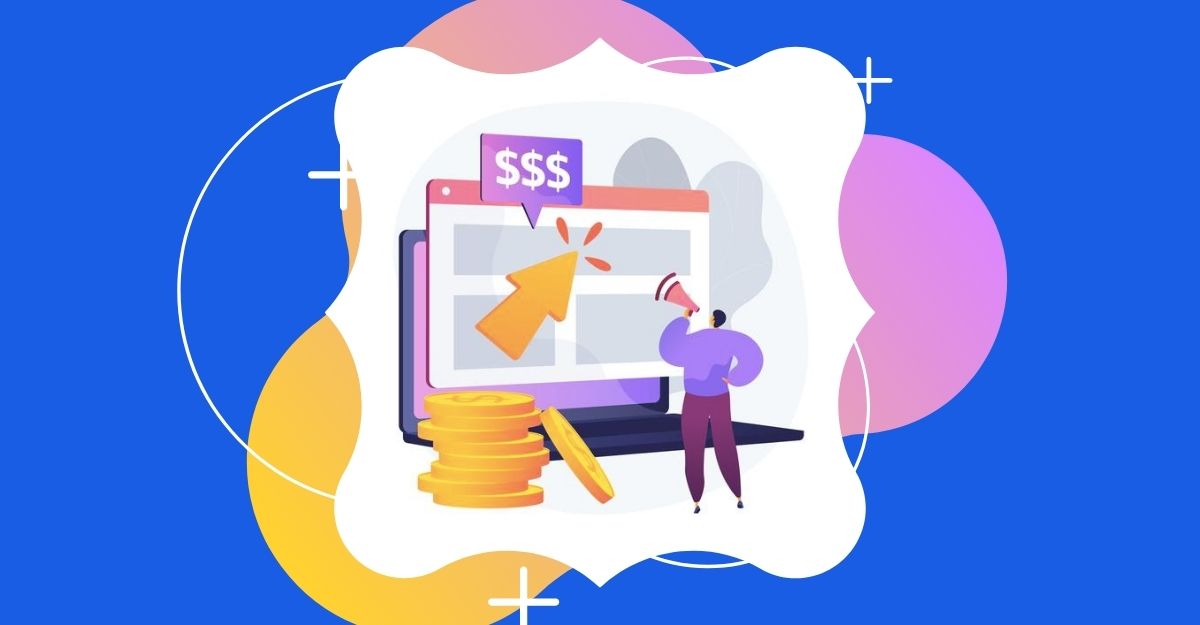 The world of marketing, especially the digital one, is ever-changing and dynamic, with tactics, technology and trends evolving with each passing day. That is the reason why it is necessary to update your business with the latest developments in the industry.
After all, you would not want to fall behind your competitors who are constantly trying to outpace the curve. In the online world, Social Media Optimization (SMO), Search Engine Optimization (SEO), email marketing, advertising, and several other factors hold utmost importance.
If you are looking forward to earning on the internet, advertising is one of the best ways. In this post, let's find about how to add advertisers to your WordPress Website with a WordPress advertising plugin.
Advantages of Running Online Ads
There are several advantages of running online ads. Apart from the ability to get in touch with the global target audience, you can optimise the ads based on the analytics and performance, and improve your brand awareness using a WordPress advertising plugin.
Get In Touch with The Global Audience
When you take your business on the internet, you get to associate with customers sitting across the globe at a time. Using a Geo targeting ads WordPress plugin, you get to promote your products and services not just to the local audience but anywhere across the world.
Target The Right Audience
One of the key benefits of online advertising is that you only get to target potential leads and customers. Thus, the chances of reaching a wrong set of audience and wasting time and money are almost minimal.
Brand Optimization and Engagement
When it comes to engagement, online advertising doesn't pose any restrictions. You can make your brand available to the audience all around the year without any time issues. Keeping this in mind, the reachability and accessibility of your online campaigns become easier as well. The WordPress ad rotator plugin avoids viewer fatigue. You can also display ads from third party advertisers like Amazon native ads, Google AdSense, etc.
Everything Remains Measurable
With analytics dashboards, tools and software in a WordPress Ad inserter plugin, you can easily measure the performance of your campaigns. Right from the factors making you successful to the ones that are wasting your money and not generating any results – assessing everything is an automatic and seamless process.
Time Efficient and Cost-Effective
Hosting successful digital marketing campaigns require lesser money and time in comparison to traditional offline marketing. Also, there are plenty of methods that you can use to attract your audience and increase the sales, such as writing blogs, creating social media ads, sending promotional emails, and much more.
About WP AdCenter Plugin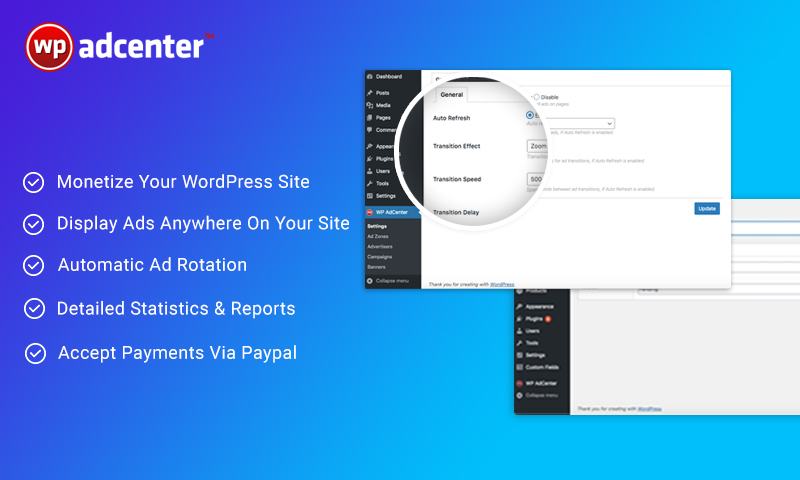 By now, if you are interested in online advertising, you would be familiar with WP AdCenter, which is a WordPress Advertising Plugin. For the unfamiliar, here are a few features to look into:
Quick and Fast
This plugin offers quick and lightning-fast output. Its high-performance code makes sure that the ads, irrespective of their size, don't degrade the performance of your website.
Different Types of Ads
With this plugin, you can seamlessly display a variety of ads from Google AdSense, Media.net, Amazon and other ad networks. If you want, you can customize banner ads. This way, displaying both network and banner ads would be easier.
Straightforward User Interface
This tool offers a powerful, intuitive interface that can be accessed within the WordPress dashboard. This way, it turns easier to handle all of the aspects of ad management with ease.
Considerable Features
In terms of features, you can rest assured of accessing plenty of them. Right from geo-location-based ads to ad rotation, ad-block detection, ad visibility, AMP ads, and several other of them can be used with ease.
Display Options
When it comes to displaying the ads, you get two different options. You can either schedule the ads or display them all the time. Moreover, you can also insert ads on any of the post or page with the help of code, shortcodes, blocks and widgets.
Add Advertisers Account
The website owner can create a separate account for the advertisers in WPAdCenter where advertisers can check their ad performance and make payments. To manually add a new advertiser go to WordPress Dashboard > Users > Add New.
Here provide all required user details as in for WordPress user and select Role as Advertiser for the new user. Click on Add New User button to save the advertiser details.
Please note that unregistered advertisers are automatically created when they sign up for ads using ad registration form.
Frontend Ad Order Form
Users can show their ads by filling front end ad form, you can display front end ad form using
Short code – [wpadcenter_ad_form]
Gutenberg Block
Elementor Widget
Frontend Ad form contains following fields
Email – if there is no advertiser registered to this email, user will be created and their advertiser role credentials would be sent to this email (Required field)
Ad Size – User could be able to select the ad size through this dropdown box (Required Field)
Ad Name – Name of the user to be entered
Ad URL – URL To which ad will be directed to after clicked (Required Field)
Ad Image – image of the ad (Required Field)
Ad Preview – a preview of an ad based on ad size will be displayed so that the users would be able to know which size would look good with the image for the ad
Ad Start Date – Start Date of the Ad
Packages – Radio buttons to select one package out of all packages for this ad
Once the user has created the order new users will get the email regarding credentials for Advertiser Role
And once the order is completed, their ad will be shown in the manage ads page as such.
Please note that you would need WooCommerce installed and activated to make the front end form work. Also check this "Redirect to the cart page after successful addition" in WooCommerce → Settings → Product → General → Add to cart behaviour so that users redirect to cart page when they fill up the form.
Wrapping Up
In the present scenario, ads are managing to generate enough revenue. So, if you wish to step into this domain of online marketing, start enhancing your overall skills of ad creation, display and management. Get familiar with WPAdCenter and begin your online ads journey. With this plugin, you can also sell a specific space on your website to other advertisers so as to earn a few extra bucks.