When And How Does Adsense Pay?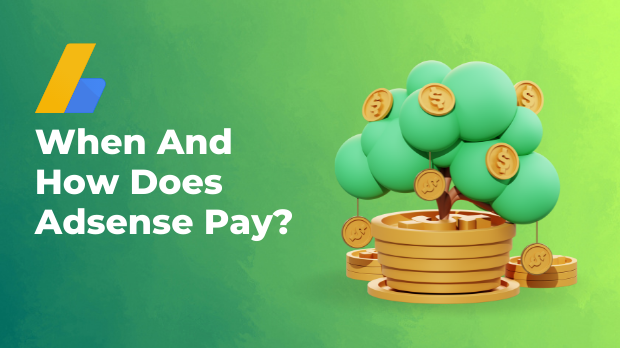 One of the significant benefits of launching a website (whether it represents a brand or is a simple blog that was created out of passion) is that it assists you in earning money on the internet. Now, you can bank up a sizable amount each month from your site if you are receiving a humongous amount of traffic.
That is where AdSense comes into the picture. Being one of the most popular and appreciative ads hosting programs, Google AdSense lets you display advertisements on the site and make money every time somebody clicks on it.
While this method doesn't help you get rich overnight, it is surely a creative method to simultaneously improve the site's content and supplement the income. So, to help you understand it better, in this post, find out when and how does AdSense pays.
What is Google AdSense?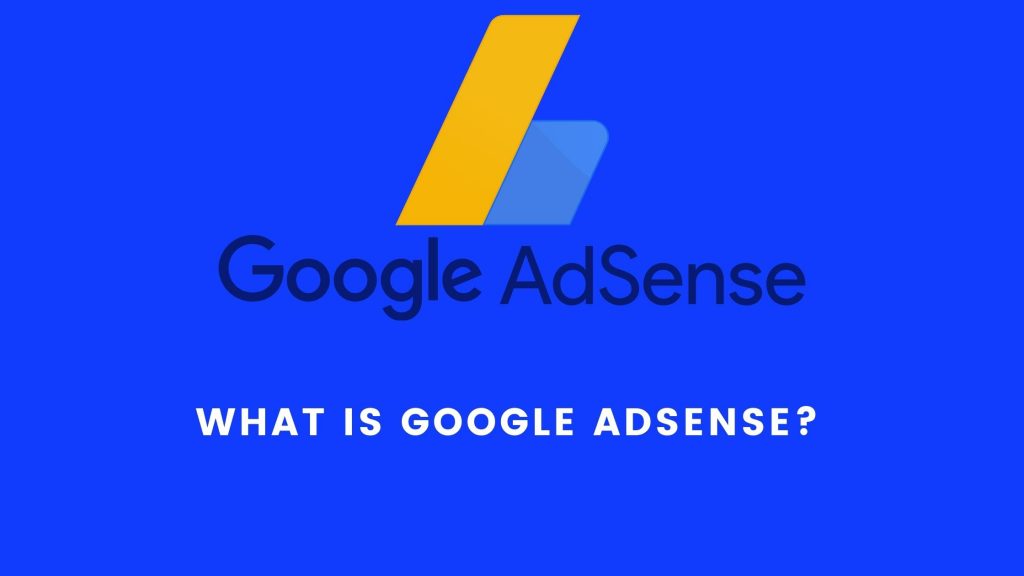 Google AdSense is a free tool that lets website owners connect with advertisers from across the world to display target ads and monetize them. These ads are specifically customized for the target audience. Therefore, every time a visitor clicks on the ad, the owner earns revenue.
How to earn money with AdSense?
With Google AdSense, you get a way to earn money through your online content. AdSense, basically, matches ads to your website on the basis of your visitors and content. And then, advertisers who wish to promote their products on your site will have to create ads and pay for them. Considering that the advertisers pay varying prices for different ads, the amount that you will earn will vary considerably.
How much does Google pay per 1,000 views?
Unlike other platforms, AdSense will not pay you on the basis of the views your ad has received. Rather, you will be paid through the Cost-Per-Click (CPC) payment method. Whenever somebody clicks on the targeted ad, you will get a specific amount.
Basically, you get 68% of the payment, and Google retains the remaining 32% as its commission. Also, this amount varies according to your location and the niche of your site. So, understand thoroughly, you can use the AdSense revenue calculator.
How does AdSense work?
Now that you have gotten an idea of what AdSense is, let's find out how it works. The process of using AdSense and displaying ads is quite simple. Follow these simple steps, and you are done.
Creating a Google AdSense Account
To begin with, you will have to visit the official Google AdSense site and create an account there. Keep in mind that this account will be linked with your primary Google account.
Add AdSense Ads to the Site
Before you can commence the displaying of ads on your site, Google will have to check whether your site is adhering to the guidelines of AdSense or not. Thus, to pass this specific step, you will have to add the AdSense code to the site. This way, Google crawlers will get access to the site's content.
During this inspection and until you get the full approval, AdSense ads will not be displayed on the site and will stay hidden by default. Once you are approved, the sites will get displayed, and you will get paid for them accordingly.
Set the Payment Information
The next step is to add the payment information so you can receive the amount at the end of every month. Also, keep in mind that to get paid, you will have to pass the minimum threshold of $100.
Also, before you can receive money from AdSense, Google will be verifying your postal address. This will be done by Google sending a confirmation code in an envelope to ensure that the postal address is correct.
How to connect Google AdSense to your WordPress website?
If you are looking forward to adding Google AdSense to your WordPress website but are clueless about how to get it done, WPAdCenter is a WordPress plugin that can help you out. This tool offers an intuitive interface and easy-to-use functionality to set up and create ads effortlessly.
The tool is available in both free and premium versions. Thus, you can choose one according to your preference. If you choose to go with the free version, you can:
Visit your WordPress website's dashboard
On the left-side menu, hover your cursor on Plugin and click Add New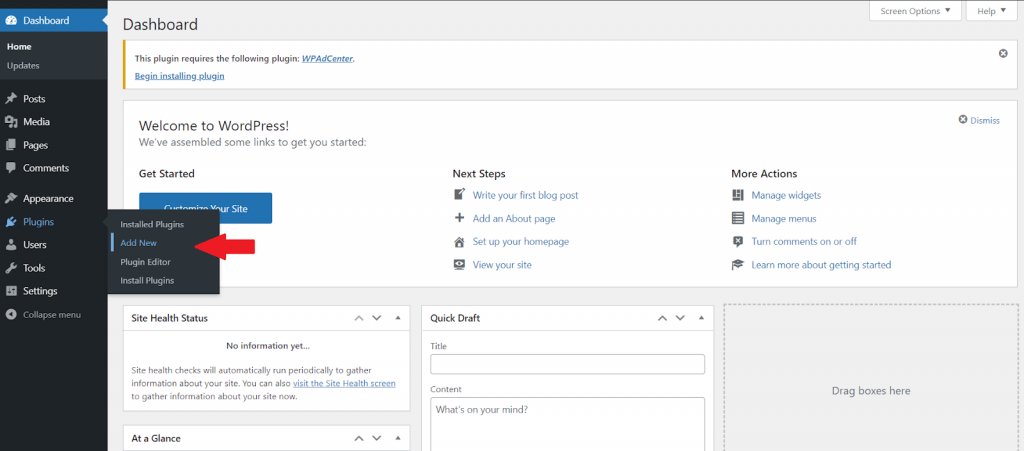 In the search bar, type WPAdCenter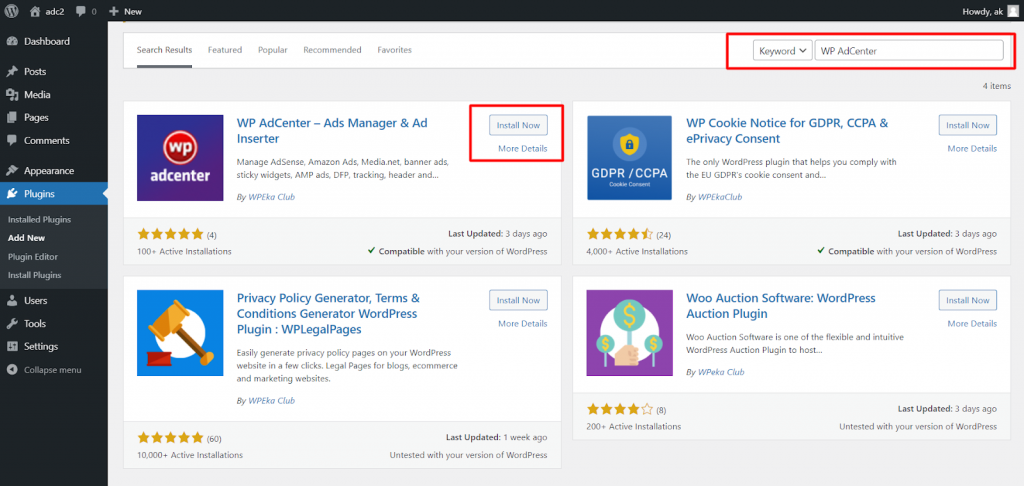 Click Install Now and Activate
Now that you have WPAdCenter on your website, jotted down below are a few easy steps you can follow to add Google AdSense to your WordPress website:
Open your WordPress website's dashboard
On the left side of the dashboard, hover your cursor on WPAdCenter
Click Settings
Here, you can customize the settings according to your preference. And then, to set up the AdSense account with WPAdCenter, follow these steps: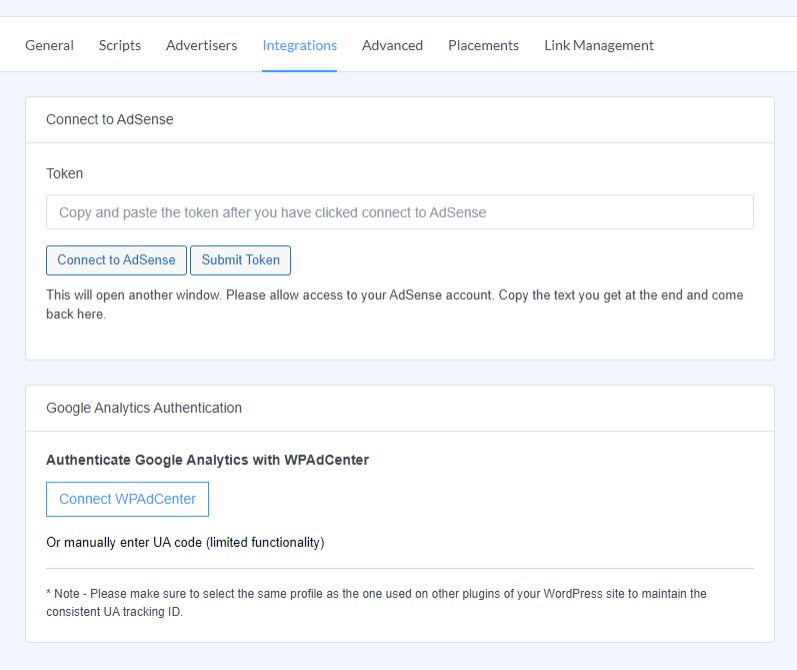 By choosing this option, connect to the Google window will get opened. Once you have successfully connected, you will get a generated token in the text form for a few minutes. You will have to copy this token and visit the WPAdCenter's settings page again.
Once there, choose the connect to AdSense feature and paste the token there.
Next, you will have to submit the entered token. This will connect your WordPress account with AdSense.
How to add Google AdSense Ads to WordPress website without coding?
Another way of adding Google AdSense ads to the WordPress website is without the use of coding. However, before you begin importing ads from AdSense, you will have to make sure that the AdSense account is integrated with the WPAdCenter plugin. And then:
Open the WordPress dashboard
Hover your cursor on WPAdCenter
Click Create Ad

From here, a new page will open up where you will have to:
Set the ad's title
Choose Import from AdSense in the ad type
From your AdSense account, the ad units will appear below. Here, click the load option, and the code will get imported into the box. And then, you can set the ad's duration and click the Publish option.

When does AdSense pay?
Your income gets calculated for one entire month. Once the month ends, AdSense will take a few weeks to evaluate the earnings and recognize if there are any false clicks and impressions before settling down upon the payment.
Generally, this review is completed by the 20th of the subsequent month. And then, in the last week of the succeeding month, Google AdSense sends out the payments. To give you a glance, here is the basic payment timeline that begins the month after you have started generating the revenue.
| | |
| --- | --- |
| 3rd of every month | Earnings get finalized, and the revenue for invalid clicks is deducted |
| 20th of every month | It's the last chance to make any alterations to the payment method |
| 21st – 26th of every month | The payments are dispersed by Google AdSense |
| 27th of the month | You could ask for the reissue of the payment if you didn't get any |
Also, keep in mind that the above-mentioned timelines can vary based upon the timezone, weekend or bank holiday. And then, based on the payment method, the disbursal may take some additional time. Some of the basic payment methods used by Google AdSense and the time is taken include:
| | |
| --- | --- |
| Checks by post | 1-2 weeks |
| Bank transfer / EFT payments | 7 business days |
| Wire transfer | 15 business days |
| Rapida payments | 15 business days |
| Western union quick cash | 60 days to pick up the cash |
What is the Google AdSense payment threshold?
A payment threshold is referred to the minimal earnings amount that you will have to accumulate before you get paid. For instance, if you have gathered $50, you will not get paid. However, the next month, if you have accumulated a specific amount that meets the Google threshold, you will get paid.
This threshold varies on the basis of the currency of your country. Here are a few sample values:
| | |
| --- | --- |
| US Dollars | $100 |
| British Pound | £60 |
| Euro | €70 |
| Australian Dollar | A$100 |
| Yen | ¥8000 |
How does AdSense pay?
There is a variety of methods that Google AdSense uses to pay. The most common types of methods are:
Cheques
Electronic Funds Transfers (EFT) through Single Euro Payments Area (SEPA)
EFT
Rapida
Wire Transfers
Western Union Quick Cash
Ultimately, you will have to decide which method works the best for you and choose accordingly.
Conclusion
In the end, it can be stated that using Google AdSense is one of the best ways to improve your earning potential. This way, you help your target audience discover new products and services while earning a significant revenue each month.
Now that you are ready, use the WPAdCenter plugin and monetize your WordPress website through Google AdSense today.