How to Insert Ads in your WordPress Website?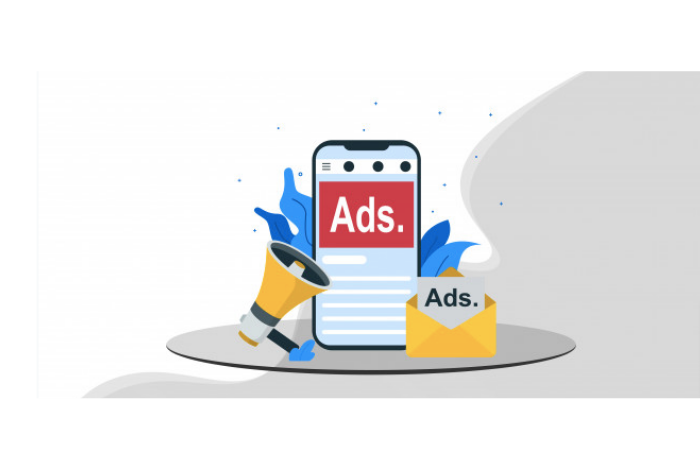 With a WordPress website, you may find plenty of ways to generate a satisfactory amount of income. But did you ever try a conventional way? WordPress ads are acquiring a lot of attention these days out of plenty of options in your hand.
Undoubtedly, ads are an excellent way to generate income. While some businesses use advertisements for their passive income, others have made it the primary source of income.
Unless you have enabled an ad blocker, you are most likely to see an ad everywhere on the internet, whether embedded into the content or placed on the top or side of a page. In this post, let's find out how you can put ads on your WordPress website.
What are ads?
Generally, a banner ad is tracking engagement or impressions. That means you can make money through a specific number of visitors viewing your ad (Cost per 1,000 impressions) or when somebody clicks on the ad (Cost per click) using a WordPress ads plugin.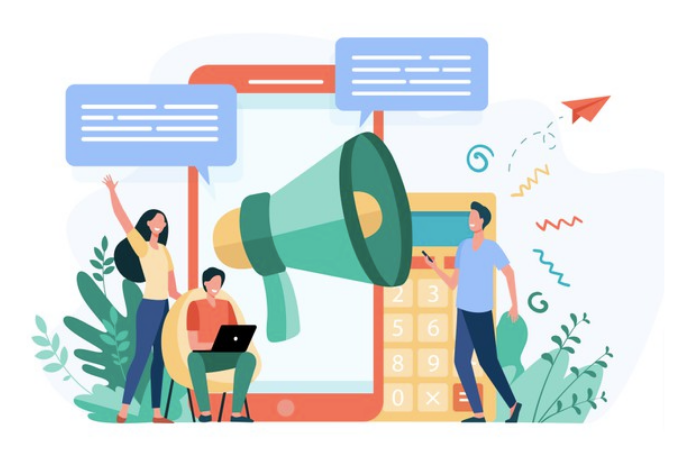 Where to put ads on the website?
Adding ad banners on a WordPress website is quite an easy task. This can be done seamlessly by inserting an ad into the sidebar with the help of WordPress widgets. To do so, go to Appearance >> Widgets in the WordPress dashboard.
Once there, you can easily drag and drop a text widget to the adequate area and paste the ads manager code there. Many advertisers are making use of the best ad management plugins to monetize their WordPress websites.
Here are some of the specific places where you can place your banner ads:
1. Within the Content of the Page using a Plugin
You can try inserting the ad into a page or blog with the help of a WordPress advertising plugin like WP AdCenter. Once you have found the plugin, download and activate the same. You should be able to see the name of the plugin on your dashboard. To insert the ad, click on the plugin's name > Create Ad and start creating your banner ads by giving a title and the ad details. Once done, you can decide where you want to show the ad and choose that option.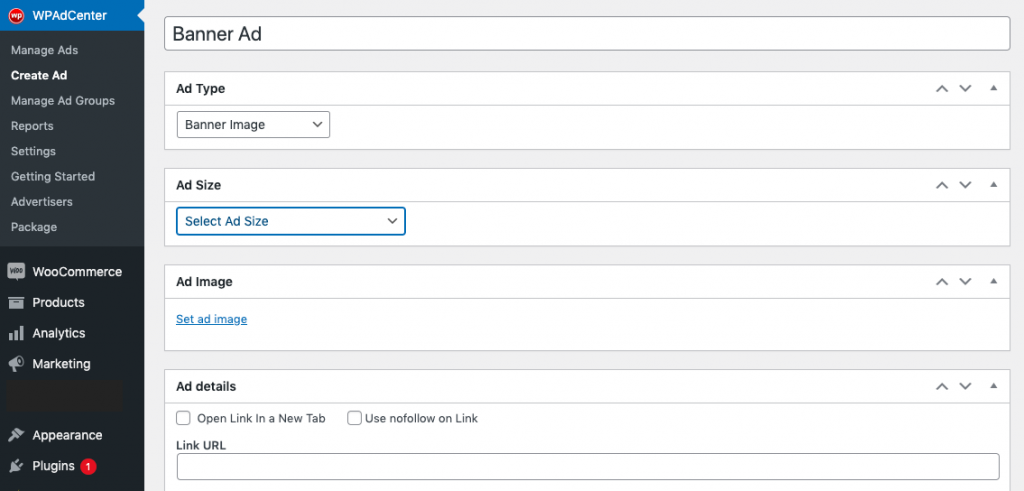 2. By Adding a Manual Code (javascript, PHP, Google AdSense, etc.)
If you want to add the ad code you can do that with a plugin or without a plugin
a) With a Plugin
Using a WordPress Ads plugin you can add the ad code directly. For instance, in the WP AdCenter plugin, you can create an ad through the 'create ad' option. Then select the ad type as 'Ad Code', paste the code, and publish it.

b) Without a Plugin
If you don't wish to use plugins, you can dig into code and insert the same for manual ad placement. The code can be pasted in the functions.php file, located in the WordPress theme directory, which is root/wp-content/themes/yourtheme/functions.php
However, make sure that you are inserting the ad after the second paragraph of the content.
3. In the Sidebar of the Website
If you don't wish to insert an ad in the middle of the content, you can choose the sidebar of the website. For this, go to Appearance > Widgets in the dashboard menu. And then, in the Blog Sidebar, drag and drop the custom HTML and paste the ad code inside it.
How to put ads on your website?
When it comes to inserting the ads on a WordPress website, a WordPress Ads Management plugin like WP AdCenter is the perfect solution to choose. However, this doesn't mean you don't have more options. In fact, you can choose a lot of WordPress plugins. Here are the potential methods to choose from:
Import Google AdSense with WP AdCenter plugin to display AdSense Ads
Google AdSense is a comprehensive platform that allows seamless integration of ads. It allows you to display flexible, relevant ads on the site to generate income through the Cost Per Click (CPC) method. Google makes use of its large ad database to ensure contextual promotions.
Furthermore, if you wish to make money with Google AdSense, signing up for it is easy as well. Simply follow these quick easy steps:
Create a Google AdSense Account. Connect your site page and look for the string of code. Copy the same to the AdSense page. Now, while doing so, be cautious that you only copy the snippet. Don't close the page or click on the Done button.
The next step is to go to download the WP AdCenter plugin. Then Navigate to Settings > Scripts. Here, paste the code in the <head> scripts. Then, click update. Go back to the AdSense account and click Done.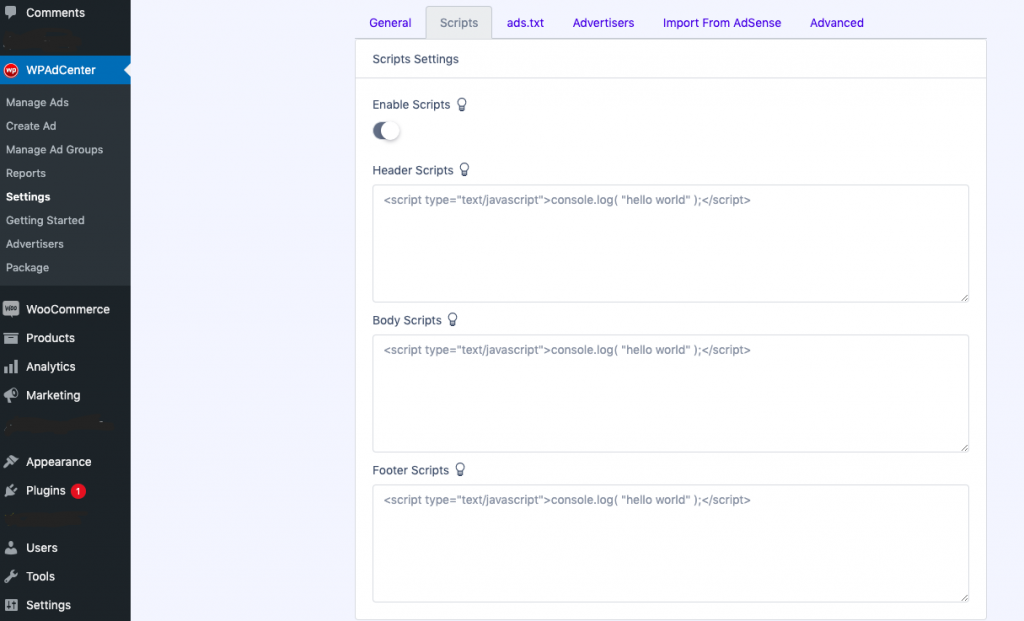 Google will review the site, which will take a few days. Once approved, you will receive an email. Post that, you can start embedding the ad code.
Once approved go to WP AdCenter. Select the Settings > Import from AdSense Option and connect your AdSense Account from the drop-down.
Now you are ready to display AdSense Ads. Select Create Ad and in the Ad Type Select Import from AdSense and show your ads.

Use WordPress Advertising Plugin to display banner ads
WordPress plugins are extensions that can add certain features to both the back and front ends of your website. Out there, you can find an array of ad manager plugins that you can choose to insert ads.
WP AdCenter plugin works along with Google AdSense to integrate promotional content anywhere on the site. This plugin also supports code, custom JavaScript and CSS scripts for placement and tracking purposes.
This WordPress ads plugin allows you to display banner ads on your website. Once you have installed the plugin, go to the Create Ads option. Select the Ad type to banner ads and upload the ad with provided dimensions. Simply publish it and your ad is good to go.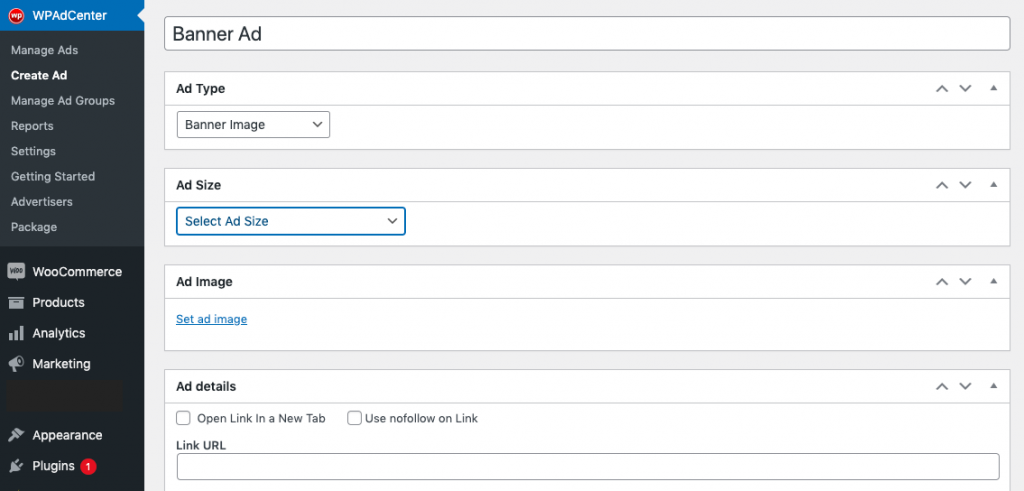 Alternative Ad Networks
Apart from the options mentioned above, there are also Google AdSense alternatives. You can source the ad code from competing networks. This is particularly beneficial during the times when you are struggling to get the website authorized by Google.
These options come with less stringent terms and conditions. Most of them also provide a more significant share of the revenue.
With the WP AdCenter plugin, you can display unlimited ads from popular networks like Amazon Ads Network, Media.net Network, etc on your website.
How to monetize the WordPress website?
For those looking forward to monetizing their websites, there are plenty of options available out there. To begin with, you can rely upon AdSense to offer random advertisements.
You can also sell your ad space to partners, sponsors, and other interested users. Various WordPress Ads plugin also have this feature. For example, the WP AdCenter plugin allows different advertisers ads to be displayed on your website.
However, apart from this, there are some other considerations to make. Jotted down below are some ways to monetize the WordPress website:
Location of the Ad:
Where you want to insert the ad matters the most. There are a lot of choices you have, such as header, footer, after or before the blog content, within the blog, after or before the blog excerpt, sidebar, and more. Choose an area that gets seen and noticed easily by visitors.
Shape and Size:
Based on the tool that you are using, you will find a variety of orientations, shapes and sizes to choose from as long as they fit the allotted space. Here, what you must keep in mind is that though you are not liable to design third-party ads, you should still consider the parameters. After all, an ill-fitting ad will only bring a bad impression to your site.
Content of the Ad:
Generally, there are only three options, which are rich media ads (including videos), display ads (images), and text-only ads. Choose wisely and go ahead with the one that is capable of attracting your visitors the most.
Mobile-friendliness:
This one is a must. If the selected tool doesn't offer mobile compatibility, you can hide or skip those ads for mobile visitors. This is because you would not want anything to disrupt the contribution of the user experience.
Wrapping Up
There are a lot of factors to consider while deciding whether to feature advertisements on the website. This strategy may help generate passive income but may also put off some visitors. Thus, make sure you are cautious with the promotional content and that it doesn't pose any hindrances in the navigation of your visitors.