How to Put Banner Ads on WordPress Website: Complete Guide [2021]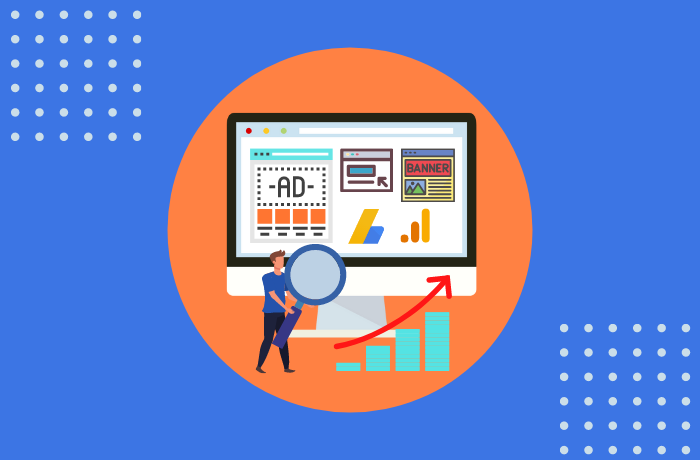 Many website owners want to monetize their WordPress website or blog to earn revenue, and to do this, showing banner ads is the best step forward.
Putting banner ads on your WordPress website can be a very effective way to get more attention from your website visitors, get more ad clicks, and earn more revenue.
There are many types of ads that you can place on your WordPress website, but here we are going to focus only on how to put banner ads on your WordPress website.
If you are looking for a starting point on how to insert ads in your WordPress website, you can check out the article.
You can place banner ads of any type on your WordPress website. The ads can be from an ad network like Google AdSense or Amazon Ads, or they can also be placed as a custom banner.
We are going to discuss the three best methods to insert banner ads into your WordPress website:
Place Banner Ads using Google AdSense
Place Custom Banner Ads
Place Banner Ads using WP AdCenter Ads Plugin
1. Place Banner Ads using Google AdSense
Google AdSense is a comprehensive and powerful tool that helps you host plenty of ad formats and types on your website. It handles all the other aspects of hosting ads, such as managing the advertisers, hosting the right ads in the right areas, and collecting payments.
Here are the steps for you to place banner ads on your WordPress website using Google AdSense:
If you already have a Google AdSense account, you can skip this and go to the next step. If you need to create a new Google AdSense account, then read this article, here we have explained the steps to create a Google AdSense account in detail.
Login into your Google AdSense account and click on the Ads menu.
Now, click on the By Ad Unit tab and select Display Ads.
Here, you give it a name, specify the dimension or select a responsive ad size.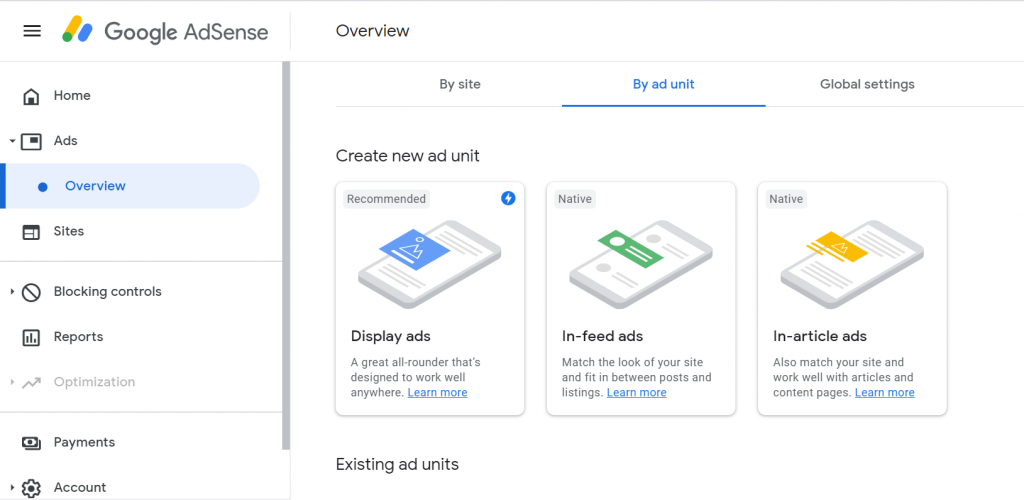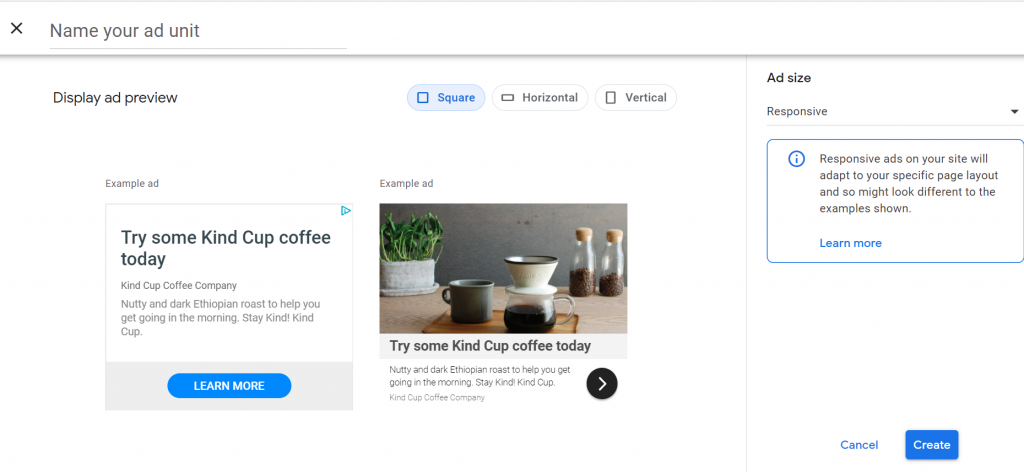 Once done, click on the Create button.
Google AdSense will generate an ad code. Copy the complete ad code carefully.
Now, go to your WordPress Dashboard and then Appearance > Customize > Widgets and select Text Widget.
Paste the copied ad code into the text widget and place it anywhere you want on your WordPress site. The ad should now start showing up.
Note: If you are creating a new account with Google AdSense, then it can take up to 7 days for the Google AdSense team to review and approve/disapprove your application.
2. Place Custom Banner Ads
WordPress offers a ton of ways to let you display images/banners on your website. So, if you don't want to display ads from an external network and show your own banner ads instead, you can easily do that.
It is important to note that you must keep in mind the ideal banner dimensions and aspect ratios to design the banner ads for your website.
Generally, for the front page or the featured area on the footer, it can be 1240px wide, and 300 px wide for the sidebar area.
There are many image editing tools like Adobe Photoshop, Spark, Corel Draw, Canva, etc. which can help you create amazing custom ad banners. You can also get them designed via a professional designer. Choose whatever works for you!
So, here's how you can place custom ad banners on your WordPress site:
Upload the banner you have created in the WordPress media library. Go to Media > Library in the dashboard.
Click on the Add New button at the top. Drag and drop the banner image file here or click on the Select Files button to select and upload from your device.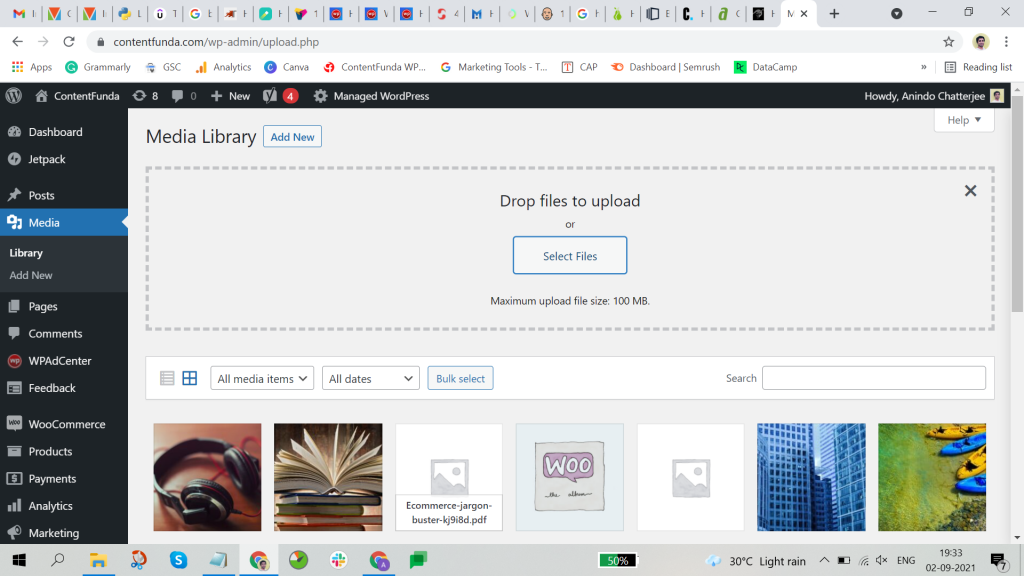 Now, in the dashboard, go to Appearance > Widgets. Here you can see the different areas on your site where you can place a widget. Based on the theme you are using, you get more or fewer areas to place your widgets.
See the area where you want to place your banner image ad and click on the '+' symbol and select the Image widget.
Within the widget, you get three options to add an image: Upload, Media Library, Insert from URL. Click on the Media Library here as you have already uploaded the banner image there. If not already uploaded, you can also directly do it here.
Add the web page or the site URL you want to direct the users to when they click on the banner ad and click on the Save button.
Recommended Banner Ad Sizes
Here are some recommended banner ad sizes for your WordPress website:
Medium Rectangle – 300×250 (Sidebar) 
Large Rectangle – 336×280 (In-Content)
Leaderboard – 728×90 (Header)
Large Skyscraper – 300×600 (Sidebar)
Mobile Leaderboard – 320×50 (In-Content & Footer)
Square – 250×250 (Sidebar & In-Content)
Large Mobile Banner – 320×100 (Header)
3. Place Banner Ads using WP AdCenter Ads Plugin
WP AdCenter is a simple yet powerful WordPress ads manager plugin. This plugin can help you display and manage all types of ads on your WordPress website easily.
You can learn more about the WP AdCenter plugin and download it for free from our WordPress plugins page.
Also, you can check out and grab the Pro version of the WP AdCenter plugin with even better features.
Now, let's quickly dive into how you can put banner ads on your WordPress website using WP AdCenter. Here are the steps:
Install & Activate the WP AdCenter plugin. Once done, you will be able to see WP AdCenter in the left sidebar of your WordPress admin dashboard.
Go to WP AdCenter > Create Ad
Set a name for the ad, then from the Ad Type dropdown, choose Banner, select an Ad Size from the dropdown list, add an image and a URL.
Once completing all the details, click on the Publish button to get your banner ad ready to be served to your site visitors.
Now, go to the admin dashboard, then Appearance > Widgets.
Select the area where you want your banner ad to appear and click on the '+' button.
Now, select 'WPAdCenter Single Ad' and then choose the banner ad you created from the Select Ad dropdown list.
Specify the alignment, devices to display, etc., and click on the Update button.
That's it, the banner ad should now be visible where you have placed it.
Using WP AdCenter, you can insert banner ads of many types like sticky banner ads, amazon affiliate banner ads, amp banner ads, rotating banner ads, and more.
Tracking Banner Ads Performance
To help track the performance of the banner ads for the publishers, Google AdSense offers a high-level summary of key metrics. Here is a guide content by Google on How to get insights into your ad performance.
Also, you can use WP AdCenter's in-built reports section for detailed ad performance statistics with custom reports. It will help you analyze and optimizing ad placements.
Wrapping-Up
Placing banner ads on your WordPress site is imperative for effectively monetizing your content. The method you choose depends on what works best for you and how much control you want in displaying ads.
However, using a WordPress ads plugin like WP AdCenter makes banner ads management much easier and gives you much more control over what, how, when, and where you want to show banner ads on your website.
If you liked this article, don't forget to share it with your friends.
You can also let us know your thoughts, suggestions, or queries.